Halloween Activity – Scratch Paper Art!
Are you looking for a fun and creative Halloween activity for you and your family? Check out this simple art project tutorial. You probably already have all the supplies on hand!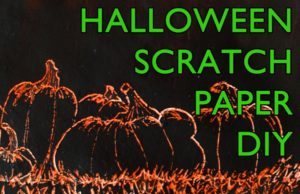 I don't know about you, but in our family we cannot wait for the Halloween activities to begin! As soon as September rolls around we start our festive arts and crafts for the season. We love decorating our home with handmade decorations, so we like to start early. We also love creating fun art activities while watching a Halloween cartoon on TV (thank you Netflix!). Curious George "BooFest" is usually the winner!
Today, I'd like to share with you a super easy and fun art project: Halloween scratch paper! Here are the supplies you will need: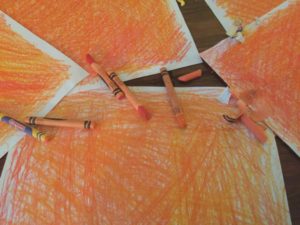 Drawing paper
Crayons (we used shades of orange)
Black paint and a paint brush
Tooth picks / wooden skewers (cut down)
Start by having everyone color in the sheet of paper in thick crayon. As you can see, we chose to use shades of orange. You could use other Halloween colors like green or purple too!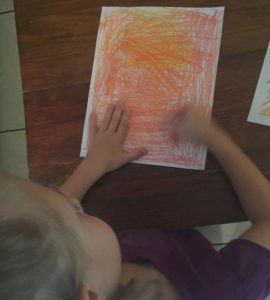 Once you have colored your paper in THICK layers of crayon, you will need to get your black paint and brush out! Paint the entire colored area with the black paint. One coat should be sufficient. Allow it to dry completely!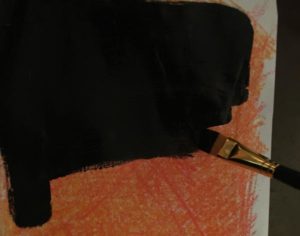 Now that the paper is dry, take your tooth picks a scrape away the black paint, to reveal the colors underneath! Here is some of the art we created!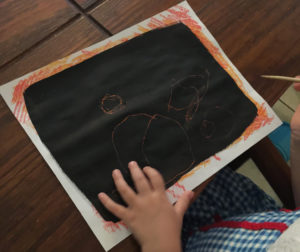 Enjoy this Halloween activity with your friends and family all season long! Please share your amazing art creations with us on Facebook, Instagram and Twitter! Also be sure to follow us on Pinterest for more Halloween fun!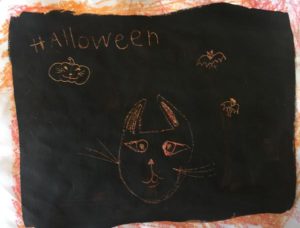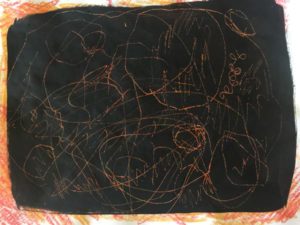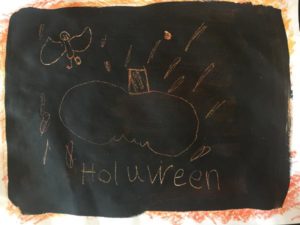 Happy Halloween and Happy Trick or Treating!