Connect the dots to help carve the pumpkin!
"For the second week of October, they want a pumpkin to carve.  A witch on a broom or a ghost that says BOO, carve a few Jack-O-Lanterns so the light will shine through." -The Skeleton in the Closet – A Halloween Tradition
One of our favorite parts of Halloween is carving pumpkins!  There are so many great ideas of silly faces and scary faces.  Some people carve animals and words.  We are always so amazed by the creative pumpkins we see every year.  So now we want you to help us design our pumpkin face!  Connect the dots to see the silly face we have! Print out this pumpkin connect the dots activity sheet!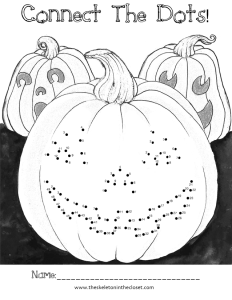 We also have a blank pumpkin for you to start designing your own silly or scary ideas!  Please share your creativity with us on Facebook, Instagram, Twitter and Pinterest!  We love sharing in all of the holiday fun!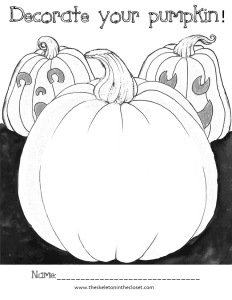 Happy Halloween and happy trick or treating!