Well hello trick and treaters!
Today we have some very exciting news to share.  For this 2016 Halloween season, you will be able to buy "The Skeleton in the Closet – A halloween Tradition" through Spirithalloween.com!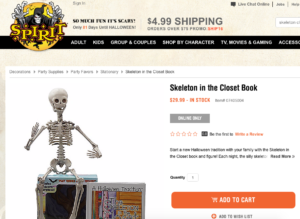 This is our 2nd Halloween season selling to the public and we are so honored to have a chance to sell to the Spirit Halloween audience!
The Skeleton in the Closet – A Halloween Tradition AVAILABLE ONLINE!
If you are in need of your very own "Skeleton in the Closet" or you have friends in need, please pay a visit to SpiritHalloween.com to get your copy for October 1st!
Enjoy all the silly, "Tricks and Treats" this season!
Happy Halloween and Happy Trick or Treating!
Visit us and follow us online!  We love to see everyones "Tricks & Treats"