Halloween Tricks!
Here at "The Skeleton in the Closet" our favorite thing to do is play tricks and give treats!  After all, that's the best part of Halloween!  So today, we wanted to start sharing some funny "Halloween tricks" to play on family and friends.  Check out some of our favorites and share yours too in the comments below!
Spider in the Bathroom!
This is one that will truly give you a fright!  Take a fake spider and a roll of toilet paper.  Unroll a bit of the paper and tape a spider to the top side, then roll the paper back up and wait for the screams!  We learned this great idea from the TODAY Show! Click on the image for a video with a bunch of great Halloween tricks!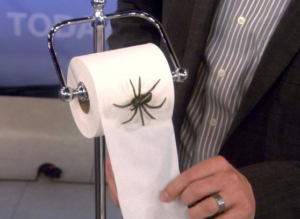 Fake Money!
This is a favorite "Halloween Trick" of ours!  Its a Fake $20! We designed these realistic looking fake twenty dollar bills to trick all our friends at events!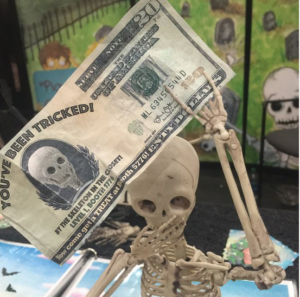 Soap That Won't Work!
This is another funny and super easy trick to play on the entire family!  Take clear finger nail polish and paint a bar of soap.  Once dried, put it in place of your usual soap and let the chaos ensue!
Nail Polish Spill
Here is a simple trick to make!  Take some nail polish and spill it onto wax paper and allow it to fully dry!  Then, you can peel it off the wax paper and place it anywhere that you want to make it look like the polish spilled! How clever and funny!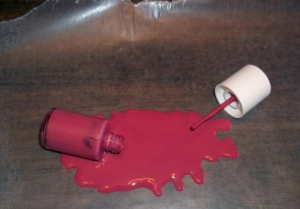 Funny Fridge Faces
This is such a simple and hysterical trick to play on your friends and family! Just pick up a variety pack of googly eyes at the store, and glue them onto all the food, then sit your skeleton up in there holding a couple eyes himself as if he played this Halloween trick!  What a riot!